10/11TH ISSUE - Depart Magazine
Rafiqul Shuvo speaks about the logic behind OGCJM
Mustafa Zaman: What is the significance of the name OGCJM (Only God Can Judge Me)?
Rafiqul Shuvo: The name represents… shall I give it to you straight?
Yes, please.
It is almost like a hoax we have thought up… in the context of how the hierarchies are set in Bangladesh according to age… as you can see that being a young artist I myself seem to find my twin-role as artist and curator disadvantageous. Also the roles each of us plays in this art scene have not yet been recognized in the way it should have been recognized… OGCJM tries and introduces an alternative mode of evaluation.
It was absent in our artistic arena before OGCJM?
Yes! I mean it existed, but not in this form. Two of the things seemed very important to me at the onset: one is to build an easily communicative highway to reach a wider audience, and the other is to ensure freedom from conventional judgment and criteria. There were also these two things that kept bothering me from the start: my role as an artist – against the backdrop of the kind of art that I do, and my role as a curator. I wanted to see what sort of conflict arises out of these two different roles…
The need for such an alternative venue never occurs to artists who are regularly being facilitated by mainstream galleries and institutions. However, some forms of alternatives are also being staged by the same institutions as a departure from the usual practices. So, there are fixities all artists follow…
Roles are being produced by these organizations and the structures are also there for us to follow. So I thought it is time for us to examine the structure of how art-events are being staged. I wanted to prove that the same can be done from outside as outsider and also with considerable success. I wanted to have a showcasing of both young and old, mainstream and alternative – artists who are well represented in the mainstream and artists who are not. I thought that all rules can easily be bent... I intentionally did not reveal the nature of the venue to the artists at the onset. I wanted to prove that the conventional look of the venue can also be done away with. I approached artists with proposals under the pretense of preparing for a show at a usual gallery space. So, some form of trickery was also operational here.
The staging that OGCJM initiates, the particular way of planning and executing an exhibition, which we are in the habit of calling 'alternative staging', why do we need such activities? Do you think a conventional gallery could have been used to do the same? Like you have a broader theme, under which a motley crowed of artists is being brought to the public arena, do you think a mainstream venue could have suited the purpose?
No! Not at this stage; we have not experienced it yet in our art scene. Galleries have business policies and a tradition to boot – call it structures, through which all kinds of staging are made. They cannot go beyond those structures.

Britto has tried, so has some other organizations…

That is another structure.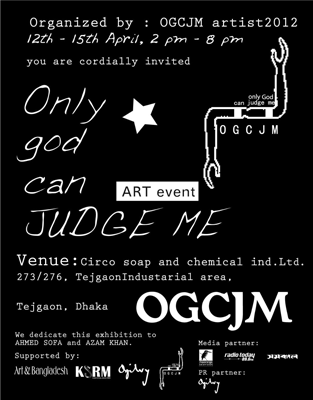 I agree. But tell me about this cultural need for going beyond these structures to look for the alternatives. What is this need…what is this culture of the production of the alternatives? We would like you to throw some light on the issue.

From my perspective, I thought we would go beyond all existing structures. I wanted to explore the possibility of the freedom that the artists may enjoy after all the structures are made to disappear. It is a given that these structures will never allow the creative footprint OGCJM envisaged to have left behind from the start. The same cannot be done, will never occur, under conditions the galleries have created over the years.
Are you implying that going through the mainstream channels would have meant a change of stance as well as the line-up you have here?
Yes, there are some established criteria; and there exist some slots from where you define everything about art. I felt the need to step out of those slots.
In Bangladesh, the mainstream defines how the alternative should look like. I have heard people talking about how neat and clinical an exhibition space should look like. Add to that the fact that all kinds of alternative art too have been conceived using the criteria learned from the West. As such the approbation of the mainstream is still an issue, especially in our country where the mainstream too is underdeveloped.

OGCJM stands for stepping outside that space where mainstream frames of judgment remain a viable force, or, are still considered with a degree of respect .
By being non-judgmental?

No, not by being non-judgmental. Judgment is always operational. It is that we disavow mainstream criteria. The problem with Dhaka is that its structures of judgment are problematic.
How would you look at OGCJM in the context of the problems of mainstream value judgment?

We give up the categories such as senior/junior, academic/nonacademic, expatriate/native artists; we are habituated to judge art using these categories. I wanted to preclude such mainstream frameworks which still govern the art scene.
We are missing out on acts and apparatuses which have to do with actual judgment, actual criteria?
Exactly! Also that all major group exhibitions in Bangladesh are not really the result of curatorial visions. Solo exhibitions are curated by artists themselves. So, by emphasizing the venue as an alternative stage, I wanted to demonstrate that space, money, time as well as bringing artists of different inclinations together, are not an impossibility. The problems that arise are solvable.
The physical part of curation went smoothly as you suggest. What about the conceptual or philosophical aspect? And also, why do you take in people who are not artists? Like you have one cricketer, some young chaps from the ad agencies…

It is a process based show – one that seeks to demonstrate what the Dhaka art scene is actually all about. OGCJM wants to find the locus of today's art: where it resides, how it has come about and how it looks like at present. I wanted to examine and analyze that, as such I resorted to presenting an array of art clustered in segments. As for the philosophical framework, I personally believe that there is art in everything, and everybody is an artist. Therefore I kept it open to many, many things which, in a different context, will not be considered art.
An open-ended forum…

Like a study into how art is produced, what art looks like… I wanted to tune it to the structure that exists and also wanted to produce things that are distuned as they are not in conformity with the norms. I also wanted to dwell on the distinction between the two as it was an experiment in how these two categories of art play out in the context I have set for them at OGCJM. I wanted to facilitate their visual manifestation; do you understand what I am saying?
On the production of the visual art, I want to superimpose the idea of the 'spectacular' by borrowing from Guy Debord's concept of 'spectacle society'. Under capitalism all relations are being produced in the form of spectacles or fetishized representations or images, leaving little space for haptic and other forms of sense experiences. Is OGCJM another avenue to make interesting visuals – an alternative one that creates alternative spectacular art? Artists like John Cage and Joseph Beuys – by way of proposing a parallel process – stayed clear of such capital-driven avenues. What would the parallel process be in Dhaka's context, and where does OGCJM stand if we consider all the knowledge associated with processes that are neither medium-specific, nor connected to any established norms?

What I relied on is the entire body of languages of art to be found in Dhaka. Both good and bad art can be produced using these languages. The mainstreams and alternative art practices in the country, its galleries, education systems, artists and their cultural perceptions and even what Zainul achieved as an artist and organizer, this entire realm or body informs OGCJM. The event does not reside outside this body. In the art scene, the kind of hide and seek we encounter, and the kind of hype is created around an event, things that are also associated with bad art, we have employed all such existing principles and ploys to construct a space that can accommodate some of its good results.
I have worked from within this body in a manner so that we do not exclude criticism. By default it is part of the greater body, and it is the greater body which is actually responsible for making this venue appear.
I have tried to create a threshold as art is not an individual act or object. Any person thinking of going beyond the collective body and its politics, he or she can only accomplish at one's own risk, and one may or may not remain artist in the process. As for most of us at OGCJM, the participants are from outside the greater body, yet we are only adding new things, new principles to that ever-expanding body.
.
Exhibition Info :

Only God can judge me "OGCJM"
An art event organized by "OGCJM" artist.
Everybody is an artist, so let's God be the judge of every artwork. The issues that this declaration brings into view is linked with how art is given legitimacy through certain knowledge and how it occupies a certain niche and exists in a particular social context as art; also how the structures of society such as politics, education, and other social-political contents interface with such issues, impacting the nature of artistic production. The show is a continuum of insider and outsider takes on art and other related issues and its presentation is made possible through a diagram defined by notions of interactivity. It's an amassing of process based artistic/textual actions to see how art and artist's role keep changing in a given social environment. - Mustafa Zaman
ARTISTS
A RAHMAN, ABDULLAH AL MAMUN, ABDUS SALAM, ABIR SHOME, ARUP RAHEE, AZMIR HOSSAIN ABIR, EHSAN ANINDA, ESHITA TONNY, IMTIAZ ALAM BEG, JUBAIER ALAM, KAISAR SELIM, KEY-47, KHALED MAHMUD, MAHEDI ANJUMAN, MAHMUDUR RAHMAN, MARZIA FARHANA, MD ABDULLAH AL RANA, MD ASIFUL ISLAM SOHAN, MD SHAKHAWAT HOSSAIN, MIZANUR RAHMAN SAKIB, MOHAMMAD ALI SAGAR SHAHIDULLAH, MONIRUL ISLAM, MUSTAFA ZAMAN, RAFIQUL SHUVO, RAHIAN AHMED RAFI, RONNI AHMMED, SAKIB AL HASAN, SALAM ABDUS, SHAMIUR RAHMAN NOYON, SHUMON AHMED, SWARNALY MITRA RINI, WAKILUR RAHMAN
Venue : 273/276, Tejgaon Industrial Area, Tejgaon, Dhaka
Date and Time: 12th April - 15th April, 2012 [2 pm – 8 pm]
Closing ceremony: 15th April. [6pm]
Lastly, we will dedicate the exhibition to two iconic personalities AHMED SOFA and AZAM KHAN.